Gerlock Towing & Heavy Haul
The Largest Heavy Duty Towing Company in Portland, OR!
What makes Gerlock Towing & Heavy Haul - Heavy Duty & Semi Tractor Trailer Towing the best heavy towing and recovery service in Portland?
Unlike other towing companies, Gerlock Towing & Heavy Haul – Heavy Duty & Semi Tractor Trailer Towing is a comprehensive service provider specializing in heavy-duty towing, recovery and specialized trucking. Having served the greater Portland area since 1946, we've watched the automotive industry grow and evolve over decades, changing right alongside it to guarantee the most modern, cutting-edge service experience possible for our customers.
Contact us today for more information about our heavy towing operations.
Need immediate assistance? Call us at (503) 235-0542. Our in-house dispatch team is waiting to help!
Medium Duty Towing Service
Truck Repair
Semi Truck Towing Service
RV Towing
Industrial Rigging and Unrigging
Commercial Towing
Sale of New Parts
Need a heavy towing company?
Call us today!
What People Say about Gerlock Towing & Heavy Haul
Towing Service Portland - Portland Oregon Tow Truck Service
Calling a towing service has never been easier! We understand that your equipment is valuable and you want to limit your downtime as much as possible. This is why we aim to make every step of the towing process as simple and stress-free as possible!
Your first point of contact will be with our in-house dispatch team. We don't believe in complicated phone trees. With Gerlock Towing, you'll always get a human on the other side of the phone!
Our dispatchers have received specialized training in handling heavy duty towing and recovery calls. They know every truck in our fleet like the back of their hand. This ensures that you'll always have the right truck and equipment by your side in no time.
All of our trucks are fitted with state-of-the-art GPS technology, allowing us to provide you with accurate ETAs.
Once the heavy towing team is by your side, they will run a full assessment of the situation. Once their assessment is complete, they will provide you with a full logistical breakdown, including the rate of the job. Communication is key and we will never leave you in the dark.
Call us today for a heavy tow truck near you: (503) 235-0542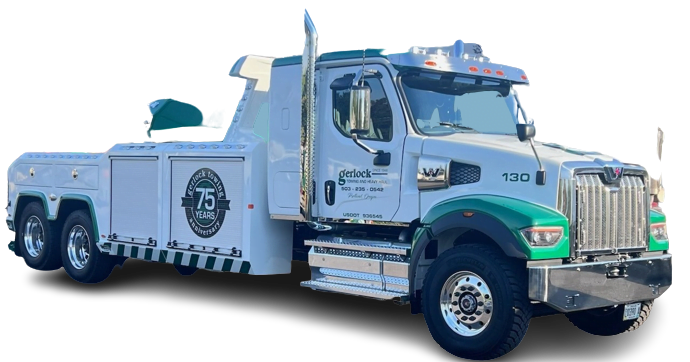 Heavy Towing Service Area
Gerlock Towing & Heavy Haul – Heavy Duty & Semi Tractor Trailer Towing provides 24/7 heavy duty towing and heavy recovery services to Portland, Beaverton, Hillsboro, Cascade Locks, and Saint Helens.
Heavy Hauling Service Area
We provide heavy hauling services to Southern Washington, Portland Metro, Vancouver, Beaverton, and Hillsboro.
Gerlock Towing & Heavy Haul - Heavy Duty & Semi Tractor Trailer Towing in the Community
We are proud to work alongside local police and fire departments on complex recoveries.